This is a philosophy web page.
Quite possibly my favorite passtimes (on the rare occassions I have time) is to discuss philosophy with anyone who fancies himself in the know. Just so that there is no confusion, I am a Thomist. This means I am an adherant to the thought of a Catholic thinker named St. Thomas Aquinas.

There is truth, you see, and it is is based on revelation, reason, and perception. All of nature is ordered (by God) except for the human will,
which is free. There is a God, you see, and He is onmiscient, omnipotent, eternal, all-good, and incorporeal. I spend a lot of time thinking about and reading about Aquinas' metaphysics, dealing with the distinction between existence and essence, though my first love is actually Political philosophy. And so -- that's a little intro to where I'm coming from! On with it...


Here, organized by philosophical discipline, are some links to a couple of text files on various philosophical topics. Typically they are excerpts of conversations I have had, or other writings...
Regarding epistemology (on how we know)
o Discussion of the necessity of faith.
o Faith's relationship to the believer.
Regarding metaphysics (of existence)
o From Thomistic metaphysics to God.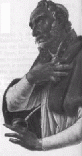 o Discussion of the arg. from evil.
o Discussion of the omniscience/free will problem.
o Discussion of the omnipotence problem.
o Reply to the arg. from contingency.

Regarding ethics (of the 'oughts')
o Short discussion of Christian ethics.
o Another discussion of morality.
o Considerations in the philosophy of ethics.
o Can an opinion ever be an ethic?

Regarding politics (the 'oughts' of human relations)
o Short reply to an American Socialist.
o Institutions of and threats to Liberty.
o Other short essays on political topics.


Regarding philosophy of man (see also ethics)
o Arguments about AI and fatalism.

Now, some interesting text files and arguments I downloaded.
o Can there be more than one God?
o Discussion of the Big Bang theory
o The "Five Ways" of St. Thomas Aquinas

If you find anything in here you have questions or comments about, feel free to leave me email right here.&nbsp
To return to my home page, click here.