Commodore "Magic Voice" cartridge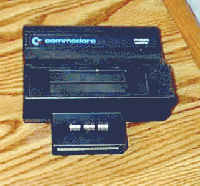 The Magic Voice cartridge was certainly a neat idea. The firmware to make your computer "talk", and the BASIC commands to do so easily were all built in. Early game cartridges, such as "Gorf" and "Wizard of War", when plugged in to the "Magic Voice"s pass-through port, would talk to you incessantly. However, this hardware did not catch on with other software manufacturers. The firmware and technology of this device WERE integrated into a prototype "264 Series" computer, the Commodore V364.

Model     : "Magic Voice"
Type      : Speech synthesis cartridge
Resources : Includes external sound ports
Connection: Commodore 64/128 Expansion port
Notes     : View the vocabulary


Click here to return to the main pictures page




If you find anything in here you have questions or comments about, feel free to leave me email right here.
To return to my home page, click here.