Commodore DPS-1101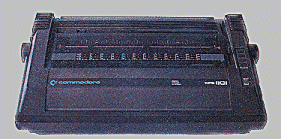 This printer was a bit of a mystery to me when it arrived. The size clearly denotes a intention for business application, yet the color suggests that it was to be marketed with the "264 Series" computers, which were NOT business computers. However, this printer DOES have a standard CBM Serial port, and it DOES use the same color shade as the 264 series, and it does NOT have an IEEE port (which the 1101s business contemporaries were using), and so I am left wondering. As it is, it is a very nice printer. Relatively quick, supporting all types of paper, and good enough to arrive at my door with numerous other "font" wheels and ribbons.
The DPS1101 was manufactured for Commodore by JUKI, maker of automatic knitting machines.

Model     : DPS-1101
Type      : Daisy Wheel printer
Resolution: Letter Quality Text
Paper Feed: Friction
Interface : CBM Serial Bus
Notes     : Very big



Click here to return to the main pictures page




If you find anything in here you have questions or comments about, feel free to leave me email right here.
To return to my home page, click here.