Commodore 6499 modem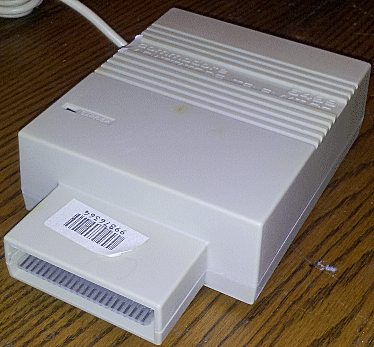 The 6499 is a modem made by Celint for Commodore in Italy. It was able to connect the Commodore 64 with Sip Videotel. Sip Videotel (now Telecom) was unique telephone company in Italy that provided a sort of BBS with teletext. The modem could transmit at 300/300 baud on BBSs, and 1200/75 baud on Videotel/Minitel.

Model      : 6499
Connection : Standard Telecom Connector
Interface  : C64 Expansion port
Speed      : 300/300, 1200/75
Notes      : "Adattatore Telematico"
Notes      : Made by CELINT for Commodore


Personal Note: The 6499 was generously made available to this collection by Alessandro Violini of Ce-Co.net. Thanks also go to Carlo Pastore for provided additional (and well written) information. And lastly, thanks to Gianluca for the baud clarification and the screen shot of the software.
Click here to return to the main pictures page




If you find anything in here you have questions or comments about, feel free to leave me email right here.
To return to my home page, click here.