Commodore 8010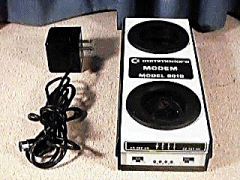 The original modem for the Commodore/PET line is a genuine acoustic coupling 300 baud piece of history, as you can see here. By the model number, these were probably marketed around 1980 for the PET/CBM 8000 line of computers.

Model      : 8010
Connection : Acoustic Coupler
Interface  : IEEE-488
Speed      : 300 baud
Notes      :


Click here to return to the main pictures page




If you find anything in here you have questions or comments about, feel free to leave me email right here.
To return to my home page, click here.