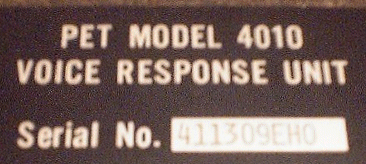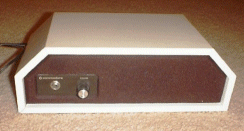 The purpose of this neat little gizmo is to produce human-like speach at the behest of the Commodore PET computer controlling it. The unit connects to the special PET User Port, with a standard IEEE-488 cable, and includes both a volume knob as well as a speaker/headphone jack for the audio output. An internal speaker is also available.

Inside, a logic board contains over 20 small unremarkable chips, as well as a large black square plastic unit roughly the size of an Intel 486 processor. What purpose it might serve is unknown. This system includes a datasette with the software necessary to control the unit.




Model     : 4010
Type      : Voice Response Unit
Connection: User Port
Power     : 12.5VAC 0.8 Watt Adapter
Notes     : Download the TALK utility
Notes     : Download the Manual (Scanned by Bombjack)


Click here to return to the main pictures page




If you find anything in here you have questions or comments about, feel free to leave me email right here.
To return to my home page, click here.