Commodore/Amiga A10 Speakers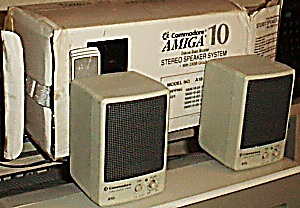 The A10 speakers are manufactured by Labtec, and include line inputs for the Amiga using a provided cable. The amplifier is powered by either an external AC adaptor, or 4 "C" Batteries.
What else can you say about a pair of external speakers? The necessity of external speakers bewilders me. Throughout the early life of home computers, especially Commodore computers, speakers were as much a part of the monitor as they are your Television. When Commodore began producing the 1930, 1950, and 1960 line of monitors, they removed the speakers from them, thus making external speakers necessary. In fact, the A10 speakers were designed for use with the 1950. Now-a-days, external speakers have always been necessary on PC-based machines because SOUND was optional on them as well. Why this should be duplicated with an Amiga, for which sound is STANDARD, is beyond me.

Model     : A10
Type      : Stereo speakers with BASS boost
Connection: Standard stereo plug
Notes     :


Click here to return to the main pictures page




If you find anything in here you have questions or comments about, feel free to leave me email right here.
To return to my home page, click here.