Commodore Dynamic Total Vision, Generation II (CDTV/CR a.k.a. CD500)
Information on this upgrade to the CDTV is nonexistant. One would speculate that it was indeed designed as a high end upgrade to the CDTV, or perhaps to be sold alongside the CDTV as an advanced model. Either way, the CR in its name denotes that it was at least considered a "Cost Reduced" model (despite the enhanced featureset). From what little we do know, there were about 60 of them made, with some featuring hard drives, and others without the flopppy drive (covered, as in an Amiga 3000).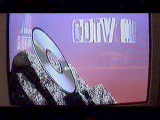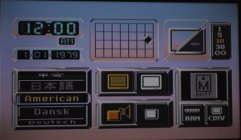 Comparing this machine to the CDTV, the first thing one notices is that the CD-ROM drive uses a standard slide out tray instead of the CDTVs caddy. Also notable is the addition of a 1411 compatible DSDD floppy disk drive internally mounted with convenient front access. The last obvious feature is the re-vamped front display, which includes new activity graphics, but lacks a clock. What appears to be a full-fledged PCMCIA slot has been added, as well as a round mini-din serial port in back to replace the standard 25 pin. All of the CDTVs video ports are present, as well as parallel, mouse, keyboard, and floppy drive ports. Some also had IDE controllers for a hard drive.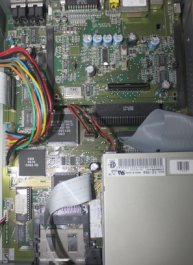 Statistics, features, and CDTV/CR resources:
CPU: Motorola 68000 RAM: 1024 kilobytes ROM: 800 kilobytes




Video: CSG "Daphne/Denise" chip
Text: 60 X 32 and 80 X 32
Hires: 320 X 200 through 640 X 200
4096 color palette
Sound: CSG "Portia/Paula" chip


Ports: CSG "Portia/Paula" chip
25 pin Centronics Parallel port
Round mini-din RS232 Serial port
Stereo RF Sound plugs
25-pin Amiga Floppy port
23-pin Amiga Video port
Composite RF Video port
PCMCIA slot
Mouse Port
Front Keyboard Port
MIDI Port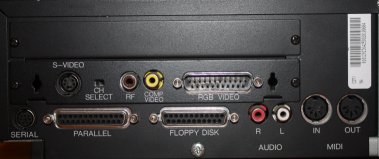 Extra hardware:
Remote Control

Numeric keypad
CD-Player buttons
Directional pad (mouse emulation)

1X CD-ROM Drive
DS/DD 3.5" Floppy Disk Drive


Personal Note: Although I'm a big fan of the CDTV, and was very excited to have the ability to pick this up off eBay, I was not very excited at the considerable market price this item brought. :)






Click here to return to the main pictures page




If you find anything in here you have questions or comments about, feel free to leave me email right here.
To return to my home page, click here.