3000T, & 3000T-040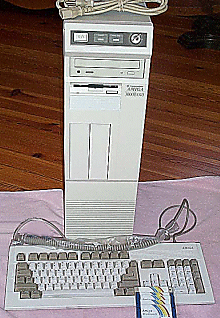 Please read an introduction to Amiga 3000s in this entry.
The Amiga 3000T was released in 1992, a year after the desktop 3000 release. It Correcting the space problems of the desktops in a big way. This oversized tower includes three 5.25" bays, and two 3.5" bays. There are also five Zorro slots for additional expansion cards, and four bridgeboard PC slots.
The Amiga 3000T-040 is identical to its brother except that, while it still has the onboard 68030 processor, its CPU expansion slot comes stock with an A3640 cpu card with a 68040/25 processor, plugged into it.
Some subtle clues (such as the labeling of the mouse/joystick ports as "mouse 1" and "mouse 2", make me believe that this computer was probably intended for business or industrial use.
Statistics, features, and A3000T(-040) resources:
CPU: Motorola 68030 or 68040
25 mhz
Processor slot is used for the A3640 68040 card in the 3000T-040.
RAM: 2048 kilobytes
Expandable to 18 megabytes
ROM: 512 kilobytes

Video: CSG "Daphne/Denise" chip
Text: 60 X 32 and 80 X 32
Hires: 320 X 200 through 960 X 512
4096 color palette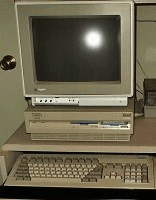 Sound: CSG "Portia/Paula" chip Ports: CSG "Portia/Paula" chip
25 pin Centronics Parallel port
25 pin RS232 Serial port
Stereo RF Sound plugs
9-pin Mouse/Joystick ports (X2)
25-pin Amiga Floppy port
Standard VGA video port
23-pin Amiga VGA/Video port
External SCSI port
Internal "Zorro" slots
Keyboard: Full-sized 95 key QWERTY
18 key numeric keypad
4 direction cursor-pad
Extra hardware:
Internal 880K 3.5" Floppy Disk Drive
Internal 40mb hard drive
Resources:


Personal Note: The Amiga 3000T and 3000T-040 came as eBay purchases.



Click here to return to the main pictures page




If you find anything in here you have questions or comments about, feel free to leave me email right here.
To return to my home page, click here.