Zelch 64 v3.0
Information Page
Released on 8/31/88
Changes:
The option to load the editor has been removed from the loader.

The ability to toggle between graphics and ascii mode from the main menu has been added.

An option to have the message maker give line numbers before every entered line of text has been added.

Multi-punter transfers have been implemented.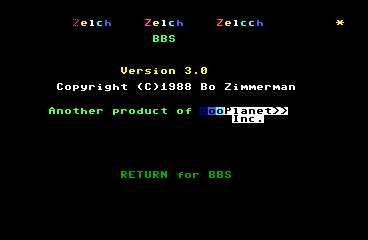 Some machine language routines have been rewritten. An astrisk at the top of the screen now notifys the SysOp when a carrier is detected.
The date is now displayed on the waiting for call screen.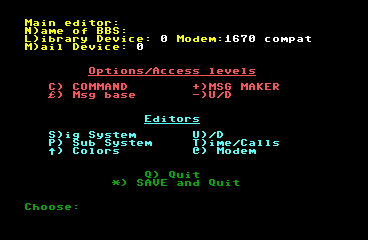 A seq file sender has been added to ZapTerm.
Control-G is now supported by the machine language, and the chat page has been rewritten to send control-Gs. This marks the end of the cool noises.
Some new support programs have been written. A game called "BAGELS" has been implemented as an online game. A user deleting program has been written for the SysOp. A 2 drive file copy program has been written.
The ability to hold your mail has been implemented. This is a long overdue feature.
The meta-character for commands in the message maker has been permanently changed to the "/" character, from the "*" character.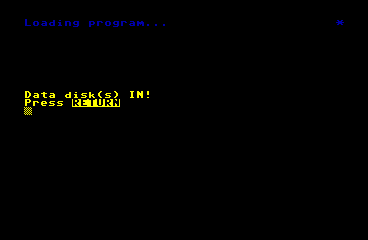 The ability to read new replies has been added!
As mentioned above, the ability to send and receive multiple files through the multi-punter protocol has been implemented. The method used is the standard multi-punter as opposed to the SCterm standard.
Although this list looks short, all changes are downright staggering for a single version change, thus the leap from 2.5 to 3.0.
That about covers it for this version!

If you find anything in here you have questions or comments about, free to leave me email right here.
To return to the Zelch 64 page, click here.
To return to my home page, click here.