Zelch 64 v2.5
Information Page
Released on 01/01/88
Changes:
The modularity begun in version 2.4 approaches completion in 2.5. The following programs have become new modules: there are 2 new user modules, the message base editor is now a module, the sub menu, the message base read, the user edit, the ud section, the vote section, the email section, the terminal program, the logon process, the variable editor, monster mode, and the message base editing commands.

The editor has been reorganized visually. The ability to select a modem has been added to the editor. The BBS program supports the 1650, 1670, and now the 1660 modem.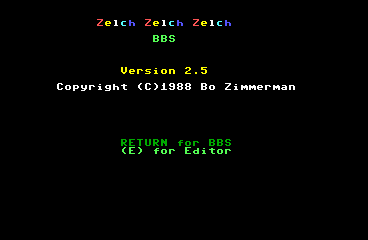 The message base SubOp commands are now contained in a separate menu off the message base menu. SubOps are now allowed using one of the user variables to determine if a user is a SubOp.
Time for users is now kept in minutes only, recalling a rewrite of the routines involved in determining logoff point. Also, a color cycle has been implemented. This includes eight colors, sequencially used, which are used to determine the color of all system text strings.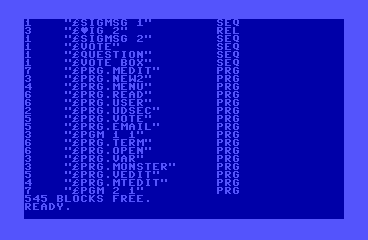 The ability to center text in the message maker has been added.
A menu has been added to the Zap term. The ability to reset the terminal has been added. The ability to toggle graphics and ascii has been added. A directory command has been added to the terminal program.
You can now pull a user list from the logon prompt.
The chat noise has been slowed down again.
The ability to have sub sections within the sub program area has been added.
The docs have been rewritten, and now appear as one file, which you can read here.
That about covers it for this version!

If you find anything in here you have questions or comments about, free to leave me email right here.
To return to the Zelch 64 page, click here.
To return to my home page, click here.