Zelch 64 v2.3
Information Page
Released on 05/08/87
Changes:
The only change to the loader appears to be a change in the way the logo at the top of the screen floats. It's floating pattern will remain this way to the end, I believe.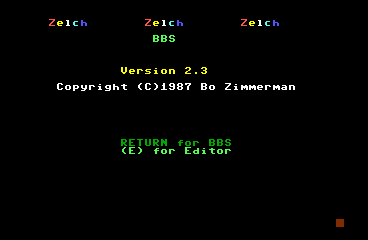 No apparant changes have been made to the editor.
Zelch 2.3 now only supports the 1670 modem; 1650 routines have been removed, but will resurface later.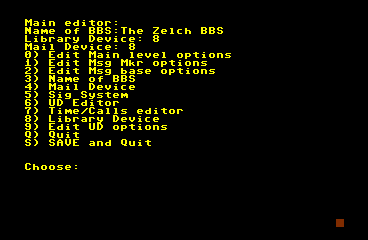 The waiting for call screen is now a bit more colorfull, as seen below.
The Zapterm has also had upload, download, and baud change capabilities added.
Most of the machine language routines have been rewritten, mostly for the better. The file reading routine, for example, is much much faster now.
The list of users is now kept in a seq file called the "members" file (a la Color 64). The ability to search for a handle has also been added, removing the old start-at-ID-number prompt.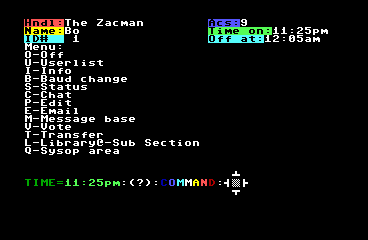 No changes have been made to the message bases.
The email section rechecks your mail upon entering, and also displays its menu automatically.
Some cosmetic changes have been made to the text file area as well.
The transfers area now shows the blocks free upon entering a transfer base.
Options to recreate the members list, as well as an option to change the time and date have been added to the SysOp menu.
That about covers it for this version!
Once again, you can check out the start up documentation file and the main documentation file here.

If you find anything in here you have questions or comments about, free to leave me email right here.
To return to the Zelch 64 page, click here.
To return to my home page, click here.