Zelch 64 v2.2
Information Page
Released on 04/24/87
Changes:
The loader program now plays a little tune now (I don't recall the name, it's the tune they play at racetracks before they open the gates). Zelch also has, for the first time, its logo floating at the top of the screen.

In the editor, a device may be set for the library files now. The variables editor has been added to the main menu, described more below. A global new messages option has been added to the message bases. This rounds out the changes for the editor program.

With a little commercial success in this version, I found myself asked to produce a version compatible with the 1670 modem. Instead of adding a modem option, I merely rewrote the modem routines in the main BBS program and kept it as a separate program. Thus, a 1650 version and a 1670 version of Zelch v2.2 was available.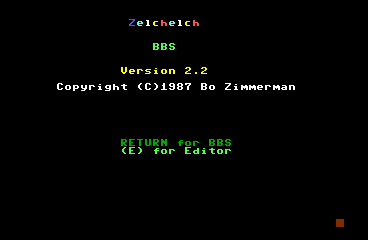 No changes were made to the waiting for call screen.
In the new user process, the addition of a set of optional questions, the answers to which are saved in a SEQ file, has been implemented. These may be up to 50 questions, free answer.
The message base area now has an All New function to read all the new messages in all the message bases. This is called a global new.
The ability for the SysOp to add time for the user, while he or she is online has been added.
Once again, the chat noise has changed. It's been sped up considerably.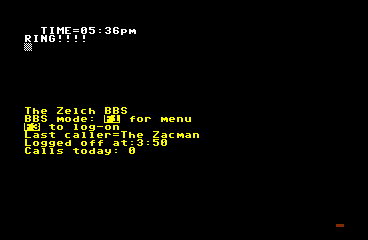 There is now a variable editor for the user available from the main menu. It allows the user to change thier message index, thus making older messages new again, or vis versa. The user may now change his or her password here. Lastly, the user can change their default baud rate. This is a baud rate from 301-600 that a 300 baud user will be prompted to change to when they log on... thus saving them from having to select the option from the menu.
In the transfers area, a feature called the "about file" has been added. This allows a user to write some text about an upload, which the about command then allows a potential downloader to read.
Lastly, the disk channel now includes a "%" command to count the number of files on the drive; this command allows a file mask.
The docs for this version are also available. There is a start up file and a main documentation file available for browsing.
That about covers it for this version!

If you find anything in here you have questions or comments about, free to leave me email right here.
To return to the Zelch 64 page, click here.
To return to my home page, click here.