Zelch 64 v2.0
Information Page
Released on 04/14/87
Changes:
Lots of changes to the editor reflect tons of tweeks in the program.

You can now set a separate mail device, and can set call and time limits for each access level. The time limits require a setting for the number of hours and number of minutes, which is strange.

An option to change the baud rate online has been implemented. This is to allow 300 baud users to push up to 500 or 600 if they can. There is also now a library section, discussed further below.

The Message Base maintenance commands have been pulled from a menu to separate commands, now definable (along with their access level) on the message base menu. They are message delete, and reply delete.

The Message Base now also allows message bases to appear on different drives.

The Transfer Base area has gone from an open system to a base system, with named bases, separate drives for each base, and an access level for each base.

The ability to add a new user has been added to the editor, and a single record file is now kept for each message base instead of separate index files.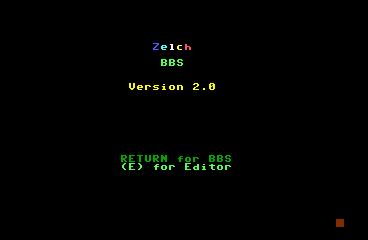 From the waiting for call screen, the terminal program is called "ZapTerm" for the first time, and an option to read feedback and view the caller log has been added. The caller log is new, and is a keystroke log for every selection from every menu.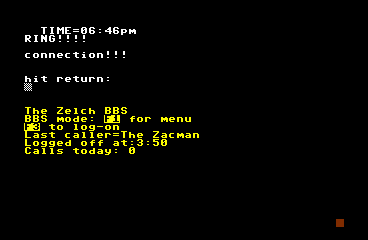 There is a new main prompt for color/graphics users featuring a cool graphical box. As mentioned above, there is also an option for 300 baud users to go to something a bit higher (300-600 roughly).
In the message bases, a quit option has been added on the initial reply prompt during message reading. Also, the aforementioned message delete and reply delete options have been made into separate commands for SubOps and SysOps off the message base menu.
In the message maker, the uppercase graphics (y/n) prompt is gone from the message maker entrance. It is now a meta command along with the others. Word wrap has been added to the mix, along with an option to toggle word wrap.
Once again, the noises made on the chat page have changed. I think they were just slowed done. It still is a wierd noise.
A library section was added, and includes a numbered list of standard SEQ files.
To reflect the new transfer base system, a change and list u/d sections commands have been added. Bases are named and numbered. Files are now marked in their filenames as belonging to a base, though this aspect is not apparant to the user (except that filenames can only be 15 instead of 16 characters).
The disk channel now more closely resembles ZOS. The two read and write commands have been changed to one letter commands with filename parameters after the colon. Another one letter command has been added to create new SEQ files as opposed to simply editing them. The ability to change active drives has been added. Everything else on the SysOp menu is the same.
2.0 is also the first version with documentation! There is a start up document and the main documentation.
That about covers it for this version!

If you find anything in here you have questions or comments about, free to leave me email right here.
To return to the Zelch 64 page, click here.
To return to my home page, click here.